Happy Hour // Marc Llach
Marc Llach (1981) grew up in Blanes, Spain and currently works in Girona as a freelance architectural photographer. He studied photography in Barcelona and specialized in Architecture and Interior Design at the Institute of Photographic Studies of Catalonia (IEFC). His personal projects focus on urban landscape development and its consequences on the environment. He has a keen interest in the ways our landscapes define and produce us.
He has taken part of several group exhibitions in Spain, France and Italy.
Happy hour is a marketing term for a period of time in which a public venue, such as a restaurant, bar, bowling alley, stadium, or state/county fair, offers discounts on alcoholic drinks, such as beer, wine, and cocktails. Free Hors d'oeuvres, appetizers and discounted menu items are often served during Happy hour.
Happy Hour
This is a photographic series which captures and shows the uncertain and blurred soul of some of the most touristic areas along the Catalan coast during its low touristic season. In summer, these free-time landscapes are full of frenetic activity but in winter they live in a lethargy which sentences them to a social and urban forget which will last a few months, disappearing when the hot temperatures come back. And this situation, year after year. It is evident how this schizophrenia produces a palpable track on this territory which feels an existential anxiety that comes from what represents in a conceptual way and the disturbing immutability that express during this specifi period.
Huge buildings, little deserts and spaces full of abandoned objects, become protagonist of a play with absurd and surrealistic subject where are represented the emotional wastes of a territory which feels sorry for itself dreaming on a summer night.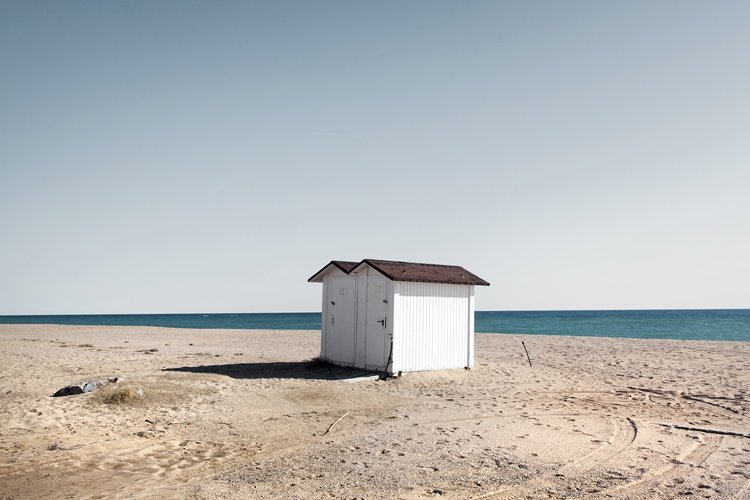 –
copyright  © Marc Llach, all right reserved
–