Shane Rocheleau was born in Falmouth, Massachusetts in 1977.  He received his BA (1999) in Psychology and English from St. Michael's College in Vermont, a Post-Baccalaureate Cerificate (2005) in Fine Art from Maryland Institute College of Art, and his MFA (2007) in Photography and Film from Virginia Commonwealth University (VCU).  He has taught photography as an Assistant Professor of Art at St. Norbert College in Wisconsin, as an Adjunct at numerous institutions, and presently serves as an Adjunct Assistant Professor at VCU.
His first monograph, You Are Masters Of The Fish And Birds And All The Animals, was published in April, 2018, by Gnomic Book.
He currently lives and works in Richmond, Virginia.
Cristian Michael Filardo: The other night I met Shane Rocheleau for the first time at a bar in Northside. I sat in the back of the bar and waited for him to arrive. The bar interior was unassuming and the wait staff was equally so. We moved from the table I had chosen to the bar at Shane's suggestion. Immediately I recognized Shane to be a friendly and approachable person, I got an IPA and he ordered a gin and tonic. It was dollar taco night at the bar, we got them, they were what you would expect from dollar tacos. An American rendition of a Mexican tradition. The next day I began to interview Shane about his photographic process, enjoy.
CMF: I find that your work achieves a nice balance when it comes to your shooting style and subject matter, still life, portraits, landscape, etc. You seem to have a nice grasp on sequencing and the narrative power of the photograph. How did you find photography? Where are you from? What attracts you to the camera?
Shane Rocheleau: I was born on Cape Cod in Massachusetts. I lived there until moving to the Burlington, Vermont area for college. Since, I've lived in Maryland, Virginia, and Wisconsin. I now again live in Richmond, VA.
It sounds hokey, I know, but photography found me. I wanted to be a writer and wasn't on a quest for another medium. I was 22 and heading across the United States with two friends in an early nineties blue Ford Escort Hatchback. I didn't expect to succeed but nonetheless decided I should try to write the Great American Road Trip Novel. Our first morning, after camping the night on the shore of Lake Eerie, we awoke rearing for the road. My buddy handed me his little Kodak Advantix camera on the Eerie beach: "Take a pic of me". When I released the shutter I discovered something; I just didn't know what. I never gave him that camera back.
Somewhere in Wyoming in July, 1999 I realized what I had discovered on the shore of Lake Eerie. I want to be a photographer.
But why the camera, right? Over time the answer to this question shifts, expands, contracts. Right now, it feels almost simple: I want to make, desperately. I've drawn and written a lot in my life. I love each of those media. But the camera demands that I enter the world outside my skull and convene with it. The camera ensures that I have adventures out there. It also ensures that for spurts each week, I slow down to almost absolute zero. When I'm under the dark cloth before my ground glass, I disappear. It's as if I become the world, without boundary, and lose all anxiety and fear. Very little feels so right.
But to your initial point: I'm too distractible to effectively access and appreciate redundancy. I grow as bored with photographing the same subject matter as I do with discovering the nuances of a hundred different lighthouses. That I move across different 'genres' in my practice is really a function of that. And maybe this aversion to redundancy is amongst the reasons why I actually struggle with sequencing?
I know I'm not alone with this feeling, but sequencing is daunting. Like with much of my photographic process, I sequence alone at the outset. Subsequently, I always realize that I can't sequence alone very well. Unlike when making pictures, when I sequence I tend to slip into the delusion that there's a right answer. I generally need help navigating this cognitive distortion. And I'm grateful to have so many talented and honest friends to call upon when I inevitably discover the futility of sequencing without their sage advice, direction, and anxiety-reducing strategies.
CMF: You describe the process of making an image as "becoming the world". Is there anything else that makes you feel this way? I find that the view camera is so performative. Do you think of photographing as a type of performance? In your new book "You Are Masters Of The Fish And Birds And All The Animals" we take a very focused look at white masculinity and the political structure of America. Can you speak to this? Who are these men? Why this work at this point in time?
SR: When I lose my ego, I lose the distinction between me and everything else; I lose the I and become the world. And I hate to admit it, but I disappear in that same way sometimes when creating masks in Photoshop. Also, when I'm spending time with people I love, when rock climbing, and when reading a novel whose prose and narrative I'm flowing with rather than fighting against. I think it happens when I'm purely receptive, not self-conscious. But I'm a really self-conscious person, so it doesn't generally happen very often. Photography is the only activity that gives me this experience nearly every time.
I would agree that photography shares some similarities with Performance Art, yes. If the outcome of the greatest Performances cannot be predicted – are left to chance (think Joseph Beuys' I Like America and America Likes Me) – then yes; and, if Performance Art ultimately challenges traditional media (painting and sculpture), then also yes. But these are just similarities. I generally consider Performance Art as staged for others to view. I don't think of making pictures with my view camera as a series of gestures staged for others (and if I've disappeared, then not staged for me, either). In photography, the performance is the process and is mostly hidden from the viewer. The product is not the performance but evidence of that performative process. With Performance Art, I'd say the performance is the both product and evidence.
I think good poetry uses imagery that's accessible, democratic, even if that poetry is personal or diaristic. I'm trying to accomplish this in YAMOTFABAATA: explore and reveal my psyche without disenfranchising any prospective viewers. I grew up with a congenital defect that made sex impossible (it's thankfully fixed now). In High School, I was hardly aware of the defect, honestly. I just felt different. But because of this quiet emasculation, I could only watch my male friends speak pompously and crassly of their sexual exploitations, objectifying their girlfriends and future "conquests". In hindsight, I feel really lucky that I could only observe – rather than participate in – this particular behavior. I was able to see it for what it was: desperate, frightened, entitled, and dehumanizing. But I was a good athlete and smart, so while I didn't fully participate in white male bravado, I still had ample opportunity and participated. I was confused then, and I'm still confused now. I want to free myself from gender expectations, but I can't seem to, not entirely. I'm still privileged by those expectations. I'm white, still fairly athletic and a bit imposing, and I can't shake that I should be better, way better, always better. I'm just not good enough (I often think), and I think it's because I'll come close to achieving very few of the impossibly many expectations placed upon me as a white American male. So to answer your question: the book takes a focused look at masculinity and politics in America because the exchange between those constructs and my unique experiences created me – as those very dynamics created, say, (the stereotype of) a male Trump voter.
That this work feels timely seems to be the subtext of your question, why this work now? What with Trump and his entitlement to grab women, the active fear of Socialist ideas in those who would most benefit from a Socialist turn, the Dylan Roofs and Elliot Rodgers rampaging for power, white America's disdain for a black man who would dare kneel in protest of the present and historical brutalization of black bodies, etc. (this list is far from exhaustive). But any analogous manifestation of this work would have been timely had it emerged at any point in the four-hundred plus year white occupation of North America. I am neither the first nor the last white American male responsible to make the white patriarchy, and all its vestiges, visible.
As for the men in my book: they are my dad, my ex-father-in-law, friends, beautiful strangers; they're dying, powerful, young, old, injured, objectified, entitled, complicated human beings. None fits anyone's stereotype. Nor do the other human beings represented in the book.
CMF: A lot to interpret here, you have a very developed understanding of your work! Can you describe your relationship to the idea of family? Can you elaborate a bit further on your interpretation of the photographic "process". What photographs are you looking at right now? What's inspiring to you? You mentioned you are attending the New York Art Book Fair, what are your plans there?
SR: I have a shifting, fraught relationship with the idea of family. My dad was essentially an only child, his mom died giving birth to him, and he was barely 20 when his father died. I recognized that family to him meant pain and sadness, as much as anything else it ever came to mean. Because there was little family on my dad's side, as a kid, my idea of family included the aunts, uncles, cousins, etc. from my mother's side. They were a seriously dysfunctional bunch. I can't remember a single well adjusted adult from the group, and most of my cousins ultimately took dangerous, self-destructive paths. I don't mean to sound cold, but they are simply not my family any longer.
I'm divorced from a woman who was obsessed with the fantasy of family, and not even our shared commitment to our beautiful daughter could repel that family should not be a contrivance. Now, I have found a profoundly supportive and loving partner – my best friend – who will give me an opportunity to again reshape these ideas. She's pregnant with our son. I feel so grateful and excited!
But it may have been in college when I first understood the power of family. I met many of my closest friends there, and they continue to show me its real meaning: family is a place to go for unconditional love, support, honesty, and friendship. It was with this realization that I came to feel just how lucky I am to have the father, mother, and brother that make up the core of my childhood. They really are that place, as are some of my newer friends, my amazing girlfriend, her parents and sister and sister's partner, and my daughter. My beautiful daughter. Family is love not blood; an open space not chains.
About my photographic process: I am not a conceptual artist. I have no ideas that could explode your head, so I see no benefit in conceiving of a fully-formed idea then executing said idea in its perfect visual form. If I succeed, my mediocre idea would be mediocre art. Rather, I make pictures after affixing to my eyes questions like lenses. The pictures become complicated suggestions, and I spend much time with every picture I make to cull from each every crumb of life and language screaming and waiting and hiding therein. New questions arise from this process; I affix those to my eyes and make more pictures. I recycle this process for years until I begin to understand exactly what it is I've been looking at, discovering, and learning. Then I sequence and sequence some more (then grow frustrated and call on friends!). Eventually, I dive back into the initial process of picture making to fill in holes. Rinse, repeat again until the product feels whole (though it never feels complete, exactly…it's more that I grow exhausted).
When I began YAMOTFABAATA, I was reflecting on America's ideological Civil War, on Democrats and their liberal concerns (e.g., LGBT rights), and on Republicans and their conservative concerns (e.g., Second Amendment rights). I asked a simple question: don't they all want the same things for themselves and their respective tribes: love, safety, stability, community, etc. This is the initial question I affixed to my eyes. The best pictures suggested new lines of inquiry and inspired new questions. Over several years, that initial question yielded something deeper, a wellspring to address that and other important questions: a meditation on American masculinity and its contradictions, and on how each relates to both my constructed identity and America's psychological inheritance, writ large.
I am so inspired by Katrin Koenning's photographic poetry, by Ron Jude (12 Hz) and Alec Soth's (Songbook) recent shifts in photographic approach, by Brian Ulrich's commitment to an idea (Centurian), by Heikki Kaski's manifold and ecstatic book, Tranquility, after all these years of failing to make good sense of it. A few months ago, I purchased Michael Schmidt's Waffenruhe; psychologically, it feels like my neighborhood, the place I'm now photographing. The book has become a peculiar catalyst for some of my newest work. Most recently, I'm inspired by this passage from Cormac McCarthy's Suttree:
There is a moon shaped rictus in the streetlamp's globe where a stone has gone and from this aperture there drifts down through the constant helix of aspiring insects a faint and steady rain of the same forms burnt and lifeless.
Has there ever been a more concise and honest simile for human life? I'm also deeply inspired by paranoia, its rise in American culture, and by its trickster appearances everywhere here.
I'll be heading to New York for the NYABF to spend time with one of my closest friends. I'm also hoping to sign a few copies of YAMOTFABAATA at my publisher's table. Mostly, I'm just looking to see some good art and have a nice time with good people.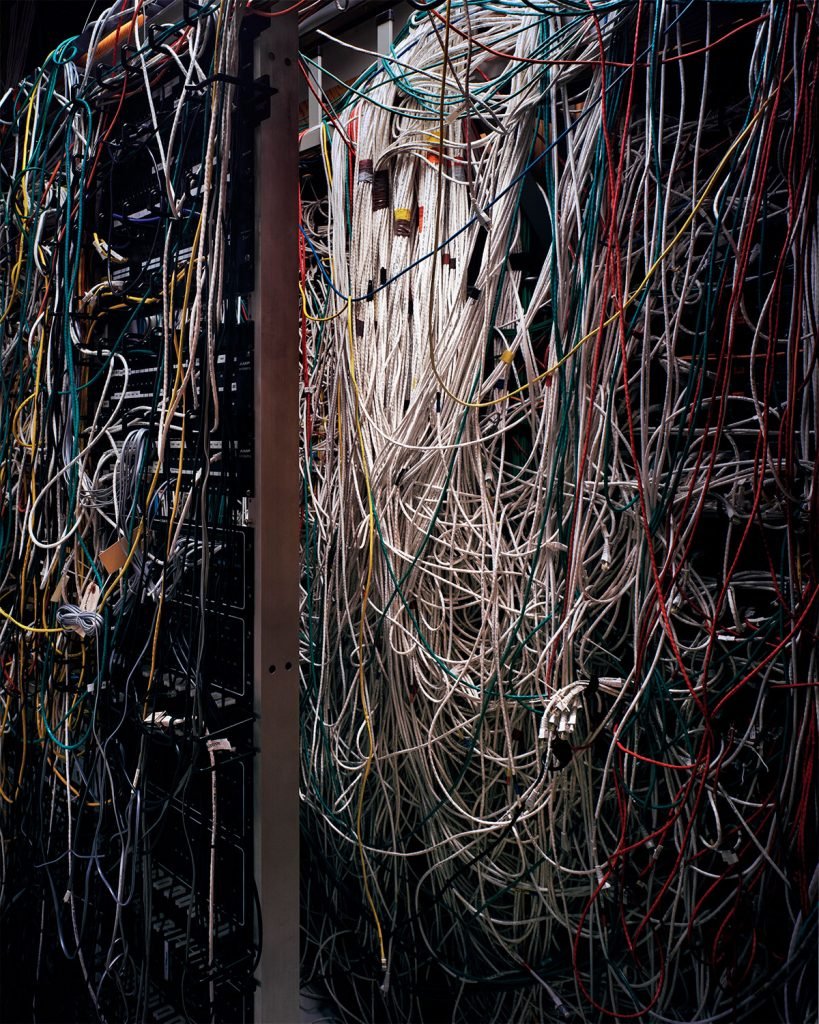 CMF: Is this interpretation of American White Masculinity a lifelong project? Or is this book the end of this project? What's next for you?
SR: On the one hand, I certainly assume so. I'm a white dude, and I will continue to meditate on the ways I've responded – and the ways others respond – to the cultural expectations placed upon (white) men and the men those expectations yield. As I've said, I am as I am as much as anything because of White America's masculine expectations: to be violently strong, sexually aggressive and entitled, a successful homesteader, a rational patriarch (etc.). I've watched how these expectations produce in their extreme repressed, aggressive, paranoid men and subservient, scared, victimized women and minorities. If a man "succeeds" in becoming what culture expects him to become, he is dangerously entitled, un-empathetic, injured, and violent. If he does not succeed, the shame can be overwhelming; and, he can still become dangerously entitled, un-empathetic, injured, and violent. He can become some version of the aforementioned Elliot Rodger or Dylan Roof.
But on the other hand, as the focal point of my art? I hope not, honestly. Maybe those expectations are shifting and the white patriarchy is almost imperceptibly falling. Maybe it won't feel so necessary to actively challenge White American Masculinity if one day it's no longer synonymous with oppression and supremacy. I hope we have the strength and resolve as a culture to re-imagine what it means to be a (white) man. Everyone will be better for it. Then I can move on, artistically.
With that said, because of the nature of my art process, I can't predict what my work will be about. It depends what the pictures ask of and reveal to me, I think.
Right now, I'm making pictures in my neighborhood. Paranoia runs like a riptide through it, and I feel it almost as surely as I feel my heart beat. The project is only a year or so old, but it feels like it's something; I just don't know what, yet. I'm really excited by it! How lucky am I that I get to make pictures?
–
website: Shane Rocheleau
Instagram: shanerocheleau
–
copyright  © Shane Rocheleau and PHROOM, all rights reserved
–