There is something special about a good photograph of a bird. I'm not sure if it is the concept of capturing something mid-flight or the strange alien shape they take on when perched upon a wire or branch. Often, I find birds move too quickly to record on camera. They speed from place to place, singing their songs, ignoring the world beneath their wings.
In Yoshinori Mizutani's book "Tokyo Parrots" we find the Japanese photographer illustrate his rapid ascent in the photography world through photographs of green parrots. Perched, in flight, swarming, delicate, whimsical, and stunning.
This work is a few years old now, the book still in print, originally published by IMA photobooks in 2014. This project is the result of a year of photographing the parrots of Tokyo that were originally brought to Japan from Sri Lanka and then let loose by neglectful owners.
Causing them to breed with no natural predators and overtake specific neighborhoods in the city of Tokyo. Mizutani was able to locate where the parrots were nesting and photographed them late in the day with extreme flash. Often causing the foreground of his images to be lit by white light and the background by the sunset or natural light still available from the diminishing daytime. This gives his images a colorful surreal quality, freezing many birds in frame with their wings open as they dart from place to place. Essentially, with "Tokyo Parrots" we have a less moody, less refined, color version of Masahisa Fukase's "Ravens".
What makes this book so alluring is how Mizutani is able to isolate individual birds and simultaneously document swarms of them at the same time. You can feel his commitment to the project, you can imagine him going out in the evening to photograph the beautiful maniacal birds. A dedication to a subject similar to Wolfgang Tillman's obsession with the Concorde. Relentless and committed Mizutani shows that he takes this quirky subject seriously.
While this book is a few years old now, I wanted to write about it because I feel it is a must have for any serious photobook collector. It's affordable, well printed, and simply enjoyable to experience. Tokyo Parrots is what the photobook as a typology is all about. If you're shooting one subject you better make it amazing and that's what Mizutani does.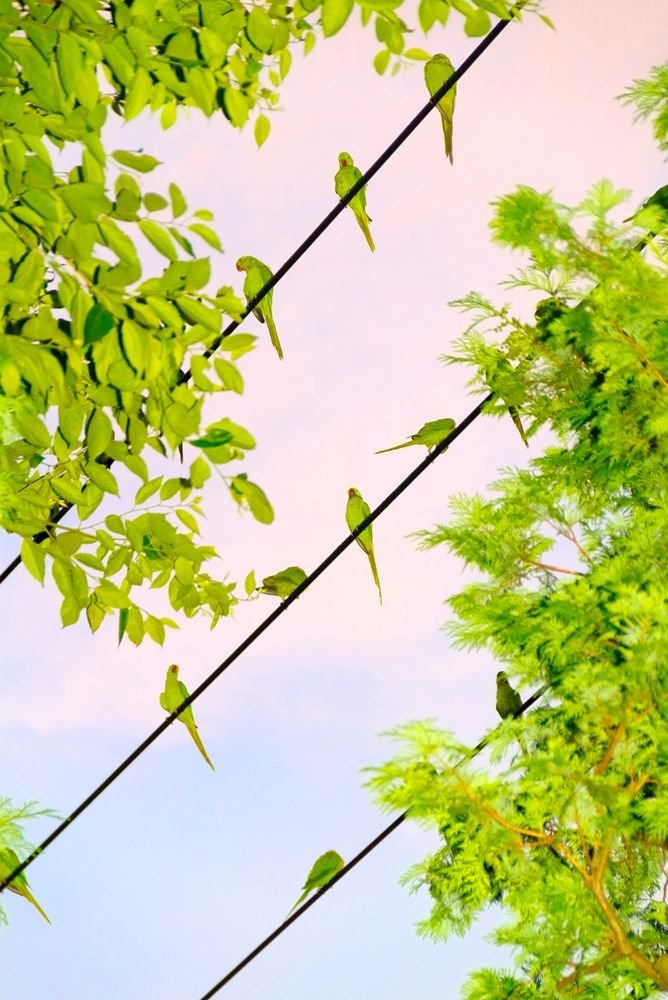 –
website: Yoshinori Mizutani
Instagram: yoshinori_mizutani
Facebook: Yoshinori Mizutani
–
review by Christian Michael Filardo
–
copyright  © Yoshinori Mizutani and PHROOM, all rights reserved
–